It's that time of the year again. The holiday season is upon us when publishers often see a sharp increase in website traffic. This happens largely due to consumers actively participating in online shopping. 
Ecommerce publishers are clear winners with increased traffic and conversions. Website users often spend time researching the product they wish to purchase bringing traffic to review websites. Similarly, holidays make people visit their families or go on a trip boosting traffic for travel websites.
Likewise, holiday, in general, makes people spend more time online leading to websites experiencing significant traffic.
Advertisers also double down on spending after recognizing these seasonal advantages. All in all, it's a great time for both advertisers and publishers to earn extra revenue in this quarter. 
However, the question arises: will Q4 be as optimistic this year as the previous ones? And if that is the case, is there anything publishers should be doing differently?
We answer these questions with insights from our CEO, Ankit Oberoi.
How will Q4 be different this year as opposed to previous years?
The great news is that publishers have started to recover from the damage that was done to their revenue. In fact, it is an incredibly optimistic time for publishers as the initial anxiety of COVID-19 has vanished. And people are now more vigilant in their approach.
By this we mean that, the general population has now started going out a bit, but with precaution. They are ordering online more than before. In fact, 62% of US shoppers have admitted to doing it more than pre-COVID.
Travel restrictions are easing and people are trying to actively make plans by searching online. Sports around the world came to a standstill due to the pandemic. But now people worldwide are using the internet to watch and follow sports that are behind closed doors.
For example, Skysports.com which broadcasts many sports on their website has experienced a surge in traffic since sports resumed closed doors. Here's a graph from SimilarWeb: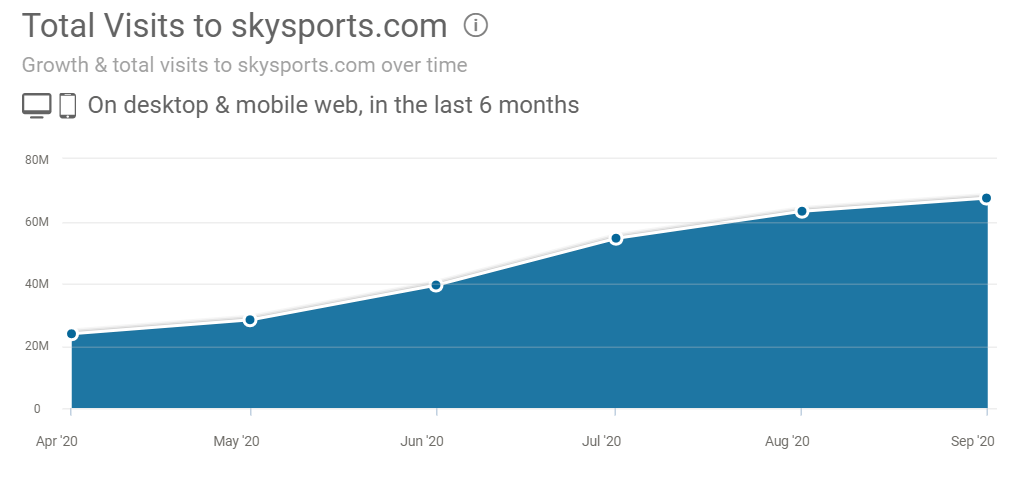 Hence, even though Quarter 4 as compared to previous years might not be as profitable, the situation for publishers is definitely improving. In fact, people becoming increasingly dependent on digitization will be an added advantage to publisher revenue models.
We've never seen such a strong performance in Q3-end before like we did this year 2020. The trend is very clear and marketers have picked digital, specifically display, over all the offline channels they were previously spending on. I'm expecting a very strong Q4 2020, with better average eCPM compared to last year. Of course, this will vary based on industries, such as CPG leading the pack and Travel at the lowest, but keeping aside niche-specific websites, overall performance is expected to be 10-15% better than last year.

– Ankit Oberoi
Are there any challenges that publishers can come across?
As advertisers are getting more picky about which audiences to buy, engagement level, viewability. One of the biggest challenges publishers have today is the lack of a segmented/personalized approach to ad monetization. How we monetize a user should be based on the value and engagement levels of the users – so the one size fits all approach is wrong and solving this is a key challenge for publishers today.

– Ankit Oberoi
Additionally, slow economic revival could be another challenge that publishers need to encounter in this quarter. Even though the situation is improving, publishers are still awaiting revenue to return to pre-coronavirus levels. According to Digiday, publishers expect this to happen by 2021.
How can publishers optimize their Q4 revenue?
There are many solutions that publishers can deploy in their ad stack. As Ankit suggested earlier, there isn't a one size fits all approach. The following tips can help you identify the best approach for your inventory:
A/B Testing
One of the best things that publishers can do is A/B test their ad units. Since the quarter has already begun, this might be the best time to check which ad units are performing best. A lot of people tend to be on holidays, hence might use their mobile phones more than their computers. Hence, A/B testing which ad units, formats, sizes will perform the best in a mobile environment can help earn extra revenue. Moreover, since traffic is high, testing newer ad formats such as video or rich media in ad units that return the maximum CTR might also be beneficial.
Refresh Holiday Content
Publishers must have created content around the holiday season in previous Q4s. We encourage them to update this content through keyword research and analysis of previous traffic on it. This will provide the website traffic with adequate boost, giving more opportunity for earning through advertising.
Video Ad Units
Banner advertising is becoming old news and is being replaced by several innovative formats. Video advertising is one such format that is known for its generous CTR. Publishers can start with outstream video ads that do not require an external video player.
As stated before, the traffic on websites might be higher. Therefore, this might be the best time to try out video ads and see how website users respond to them.
Native Advertising
It is normal for publishers to experience a high volume of traffic during Q4. People are actively using the internet for answers to their search queries. So, what is the way to monetize this traffic without hurting their user experience? Native advertising.
Native ads merge well with the content and users like viewing them too. Because they do not cause disruption in content browsing, users appreciate that and often engage with them. Publishers can start with partnering with an ad network that provides native advertising in their ad stack (like AdPushup).
Also read: Q4 Revenue Optimization Tips for Publishers
Check out this infographic for more tips on increasing ad revenue: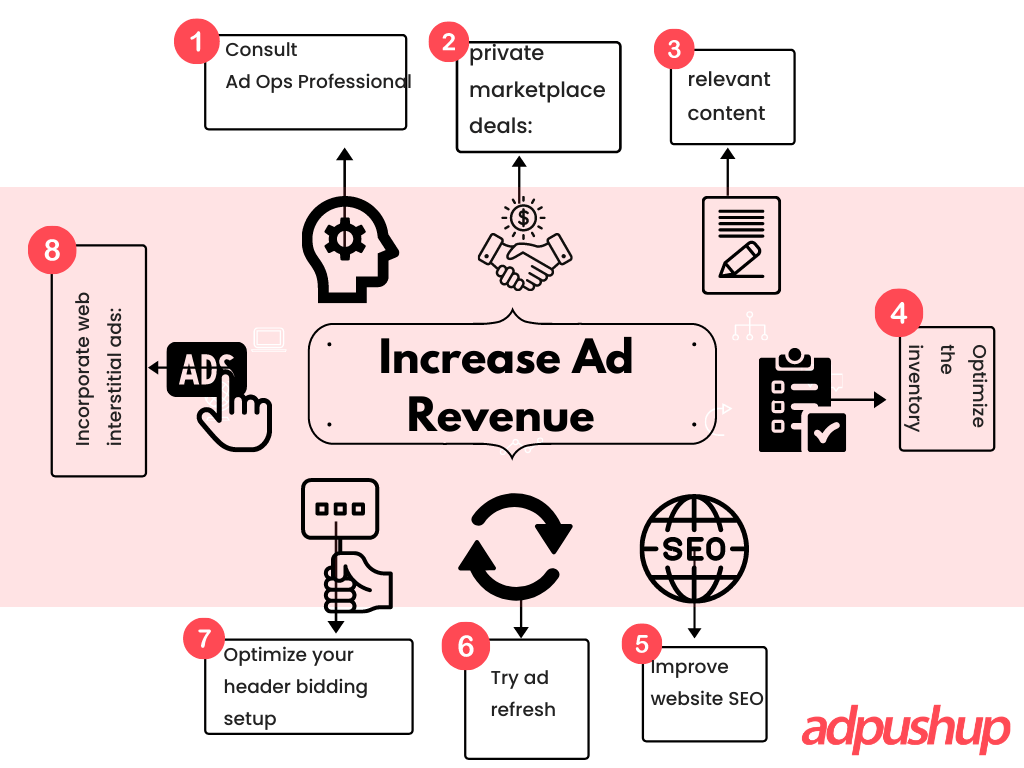 How to optimize Q4 revenue in tandem with 3P cookie apocalypse?
This year has brought multiple challenges to publishers' revenue models, one of which is Google's announcement to phase out third-party cookies. But there is light at the end of the tunnel. For publishers trying to reduce their dependencies on 3P cookies, here are some useful tips:
Contextual Advertising
Contextual advertising has lingered in the corner for a while now as behavioural advertising took over the centerstage. While both have their own perks, behavioural targeting will become difficult with the demise of third-party cookies. So to recover that revenue, publishers can use contextual advertising which employs keywords/keyphrases on a page to display ads related to the content. In any case, this will work in favour for publishers as the ads will be relevant to the audience.
Audience Segmentation
As Ankit stated above, apart from the obvious metrics, publishers should be looking at audience segmentation in order to scale their revenue strategy. Any website can get users from all over the world and there is no singular approach that fits them all. Hence, segmenting them on the basis of device, geography, etc. can make this data even more valuable. Publishers can then sell ad units through direct deals to advertisers and provide this valuable audience data for better ad targeting.
Use First-party Data for Performance Analysis
The best resource that any publisher possesses is first-party data. Publishers can do a lot more than just ad targeting using this data. Improving the overall performance of your website through the analysis of this data will also contribute to an increase in ad revenue.
Also Read: How First-Party Data Will Drive User Engagement and Revenue in a Post-Cookie World
Does the future look optimistic for publishers?
Yes, the future is certainly optimistic for all publishers. While there may be some conversation regarding online advertising not being a viable option, the reality manifests differently. Here's what Justin Smith, CEO of Bloomberg Media had to say about the same:
There's a lot of conversation about pulling out from advertising. But we think the advertising business will continue to be a viable option. The question lies in how we modernize and transform for a post-platform world.
If publishers continue to improve their ad stack and embrace the positive trends in the industry, their revenue will continue to grow.
---