A number of factors affect revenue generation from websites and placement of ads is one of those factors.
When it comes to creating ad placements, publishers have numerous options to choose from. This often confuses them and raises questions such as which is the best ad placement and what are the highest paying ad placements.
There is no guaranteed ad placement to skyrocket ad revenue. Finding the best ad placement is all about personalization and publishers should run by best practices to understand industry trends.
Each website is unique and hence monetization techniques cannot be standard for every website. To help publishers, we have created this self-help guide to find the best ad placement, type, and size for their website.
But before moving on to that we are going to talk a little bit about what ad placement is and what is its significance.
What is Ad Placement and Why is it Important?
Ad placement is an ad unit or group of ad units used to specify areas on the publisher's website where advertisers are allowed to place their ads.
For example, 728X90 – above main content and 300X250 – in-feed are some popular placements. Ad placement includes size, type, and location of ads; shared with buyers during inventory exchange.
Google Adsense allows publishers to either define their own placement criteria or go for automatically created placements.
Where you place an ad determines its viewability and ad viewability (more about this later) is an important metric for publishers to consider. Advertisers go for inventories that have high viewability and if your website ad sizes are not resulting in the same, you can lose revenue.
Ad sizes and ad formats have an impact on how users engage with the ads which is why it is advised to optimize them regularly.
For example, if a publisher decides to offer leaderboard size in their inventory they should consider placing the ad above the content. This is because according to Google, leaderboard ad sizes perform best when they are placed in this manner.
Now that some light has been shed upon ad placement, let's move on to how publishers can find the best ad placement for optimizing revenue generation.
Prerequisites of Ad Placement
Before we get started, we would like to reiterate that this is a self-help guide. By this we mean that if you carry out these tests, you might get varied results during each test session. The data provided in the post is for reference and example; your in-house data might differ. In case of confusion, it is advised to take the help of a professional.
1. Tools Required for best ad placement
Google Analytics or SEO tool: To monitor the traffic and audience. Also, to analyze the source of traffic, most used devices, geography-wise distribution and more. (We have covered the whys below).
Heatmap: To find the most engaging parts on the website—above the fold and below the fold.
Ad Manager dashboard: To check the exact earnings via inventory and performance of each ad size and type.
2. Traffic Analysis
The first step to ad revenue optimization is to understand the audience. Start with numbers such as monthly users and page views.
Use Google Analytics to check which country is offering the majority of traffic. This should help to choose the ad placement popular among advertisers in that region and/or avoid ad placements not supported in that region.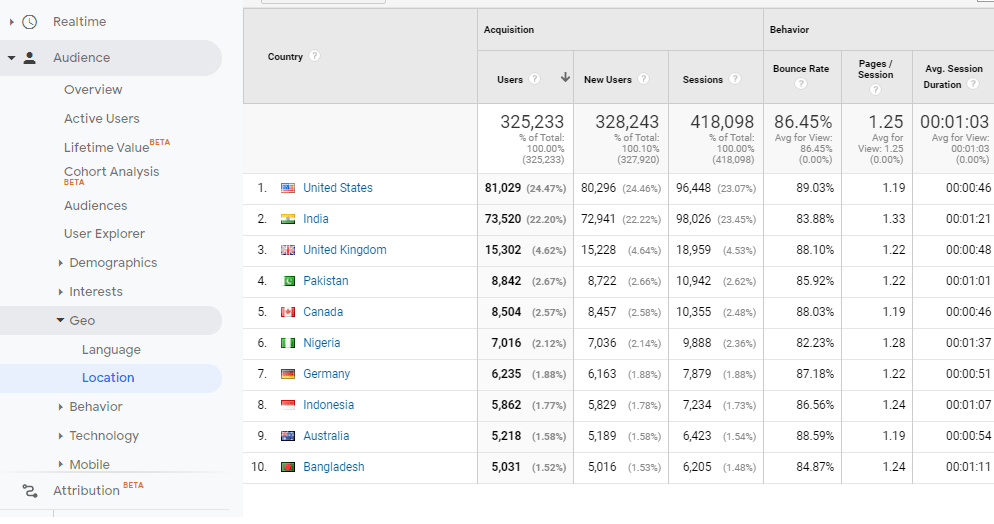 Next, find the pages getting the most traffic and least bounce rate, these are the money makers and publishers should sell these via guaranteed deals for better monetization.
3. Ad Viewability
Just because you have placed ads on your website that doesn't mean users are seeing them.
Ad viewability has become an important metric for advertisers. Digiday says, 54% ads aren't viewable. This frustrates advertisers as half of their spending is wasted.
All this adds pressure on publishers to improve their inventory to show viewable ad units. Start by understanding ad viewability standards set by IAB and MRC.
Here's an example of viewability standards – a minimum of 50% of the ad is in view for a minimum of one second for display ads or two seconds for video ads.
While creating ad placements, ad viewability should be one of the key focus areas. Meaning, find placements that get appropriate view time by users.
4. Performance of Already Placed Ad Units
Generate a report of your existing placements and their performance basis of viewable impression, click-through rate, and overall revenue. Keep the best-performing ones and reconsider the unsatisfactory ones. Also, these numbers should serve as your baseline to compare further test results.

Steps to Find the Best Ad Placement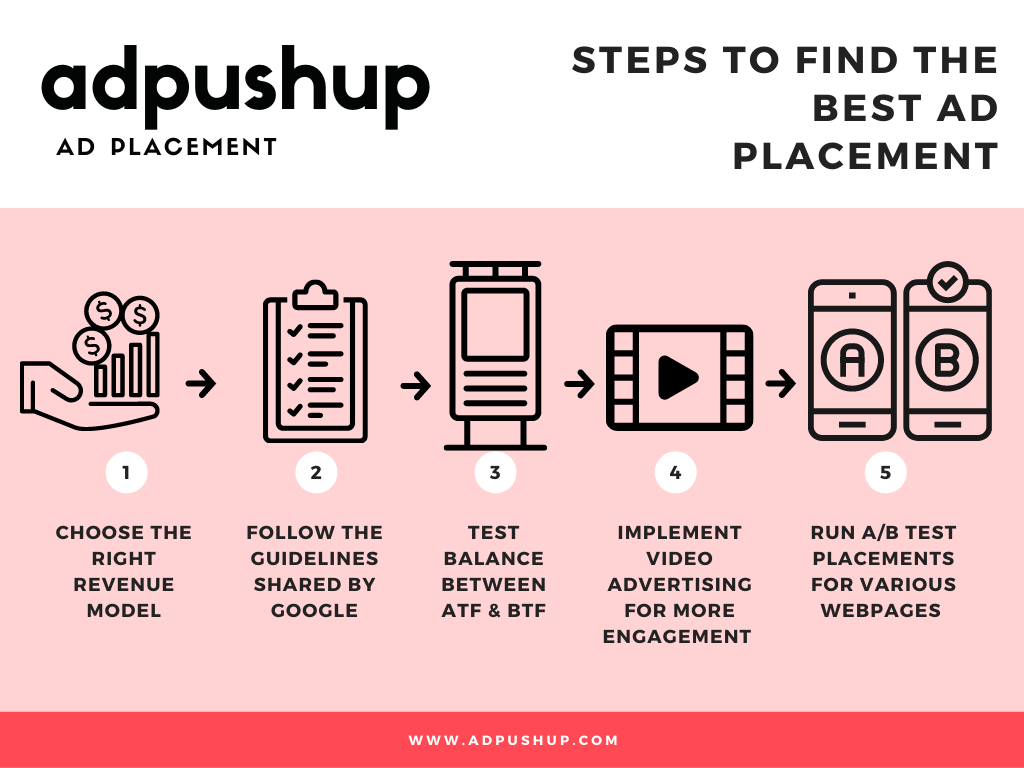 1. Start With the Revenue Model
Your revenue model influences your strategies to improve placement. For instance, if you deal with CPM, then you need to work on improving the impression number and quality.
Similarly, if you have a CPC model, your strategies should revolve around improving the click-through rate on creatives.
If you deal in both then find which model brings the most dollar and prioritize that one. Knowing your revenue model influences the next steps you take to find the best ad placement.
Learn more: A Comprehensive Guide to Increasing Average CPM
2. Follow What Google Says
Not blindly though
The quality and quantity offered by Google is the reason why it is still a leader when it comes to ad tech. It has the largest pool of sellers and buyers, hence the data and insight presented by Google shouldn't be ignored.
In the same context, check out the ad sizes and layout marked as most common by Google. Here are some of the common ad sizes for display ads:
300 x 250 – in feed between on content on desktop webpage
728 x 90 – on leaderboard with/under logo
300 x 600 – sidebar sticky on desktop webpage
Similarly, check the ad viewability standard adopted by Google. This includes data from IAB and best practices suggested by MRC mixed with Google's own data by serving millions of impressions every minute.
Learn more: AdSense Best Practices: Recommendations for 2021
3. Test the Sweet Balance Between ATF and BTF
It's not recommended to overpopulate the above the fold (ATF) field for better impressions. Neither to push all your ads below the fold where they become unseen by users. When in doubt, choose testing.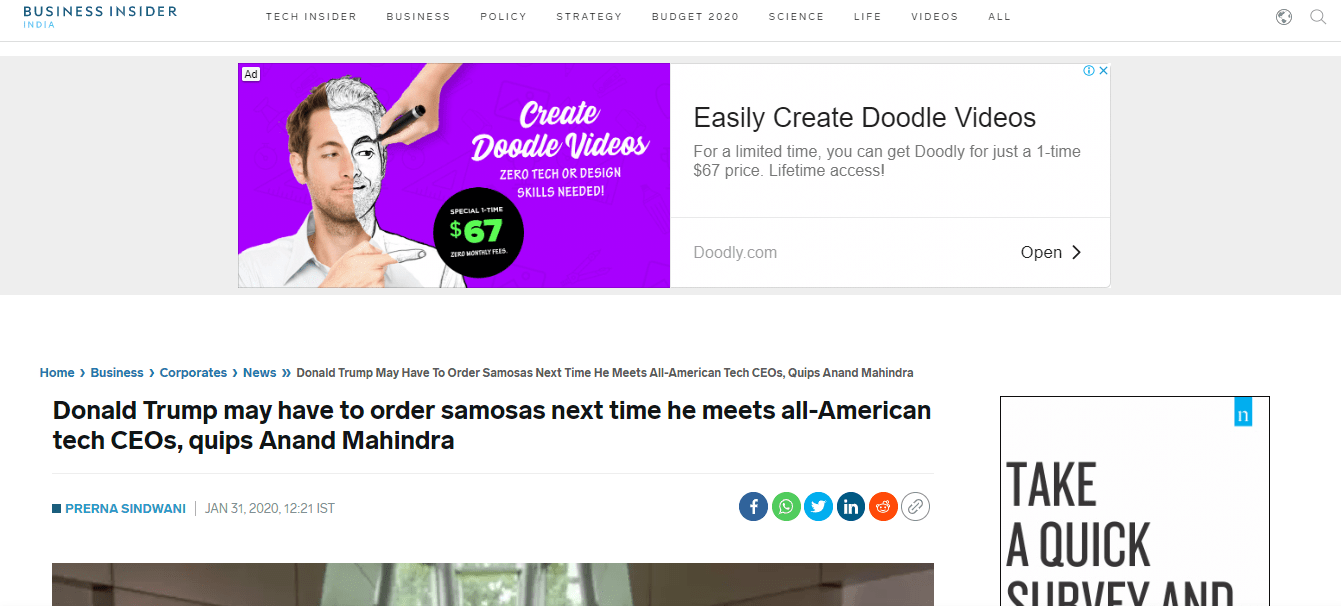 This is an example of an ATF ad placed on the Business Insider webpage. These large banners bring a quality impression.
Remember that most users start scrolling as soon as the page loads. This means such ads should appear on the users' screens as quickly as possible. Otherwise, it causes a loss of impression. Hence, make sure you have a fast loading process for ATF ads.
Similarly, for BTF, use lazy loading to improve page load speed. These tiny details might not look like a priority but takes publishers a long way while strategizing for better user experience, buyer satisfaction, and ad revenue.
4. Video Advertising
Looks like ad tech is not getting over video advertising anytime soon. Many stats and reports show that video advertising gets better user engagement. With the boost in technology, it is getting easier to create video ads, hence advertisers and marketers are investing in it with each passing day.
While testing the layout, consider video advertising for your inventory. You have options like outstream video ads that can be run using VAST and VPAID services. In case you publish video content, then you should definitely get started with video ads.
Read more: How Publishers can Transition From All-display to Video Ads
5. Testing, Testing, and Some More Testing
As mentioned above, no ad placement will bring you a guaranteed increase in ad revenue. It requires constant testing to pinpoint ad placements that should work for your website. This adds to the tasks of your ad operations team, making testing and monitoring an ongoing process.
Google Ad Manager offers A/B testing experiment. Similarly, you can take help from third-party services to test placements for various webpages (AdPushup provides layout testing and optimization).
While testing, start with the location that shows the highest engagement as noted using the heatmap tool.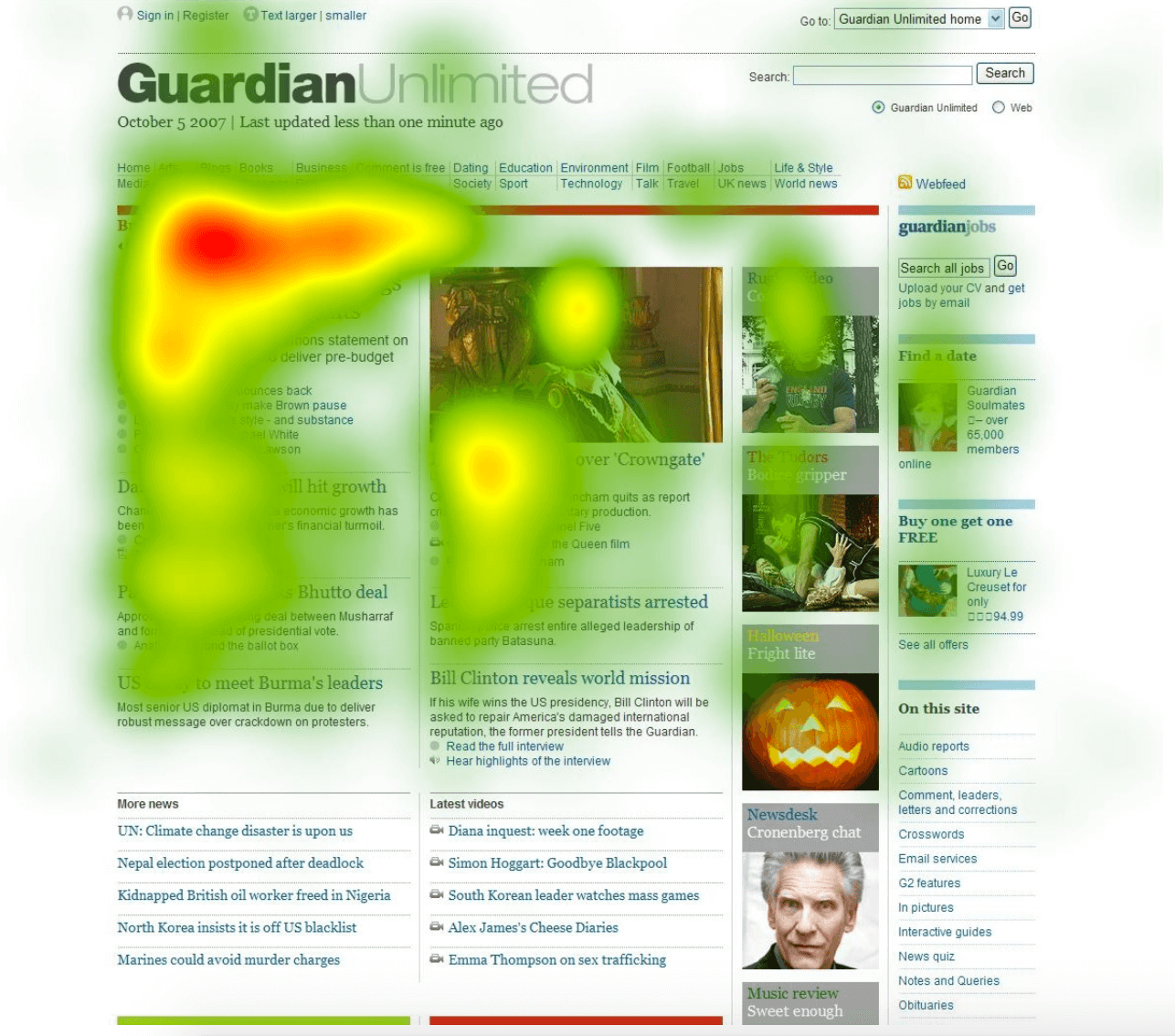 For more complex experiments, test display, native, and video ads against each other to understand which one adds more value to your inventory. To give you a rough idea,
| | |
| --- | --- |
| Type of ads | Value to the inventory |
| Display Ads | Work for most websites with average user engagement. |
| Native Ads | Offer non-intrusive ad experience by showing ad layout similar to webpage content. |
| Video Ads | Offer maximum engagement but can be intrusive if not placed optimally (like autoplay with sound on). |
Learn more: 10 Essential A/B Testing Best Practices for Publishers in 2021
Final Words
While testing ad placements, make sure to comply with the policies of your ad network, exchange, and SSPs. Also, keep ad standards for viewability and user experience in mind while conducting the tests.
In short, create ad placements, test them, and go with the best-performing ones on your website.
---