Adblock usage is decimating publisher income globally, leaving them scrambling to recover their lost adblock revenue. This effort typically takes two forms—ad walls and paid subscriptions.
There's a renewed interest among top-tier media publishers to drive visitors to buy subscriptions. This is an effort to reduce dependence on advertising-based revenue model in the first place. But even brand-name publishers, known for their discerning content, have made their peace with the fact that it'll take a while to overcome the mental block of paying for online content, even the exceptional kind.
The other part of the plan, therefore, still relies on convincing visitors to support advertising.
Here are the ten brand name publishers, ranked on their methods of recovering adblock revenue:
10. Daily Mail: The Nonchalant
eMarketer estimates that Daily Mail's adblock losses amount to $22 million annually. The UK-based entertainment/news publisher doesn't seem perturbed.
MailOnline doesn't implement ad walls—a commonly used script which detects visitors who have adblock enabled and requires them to disable/whitelist a site before granting access to content.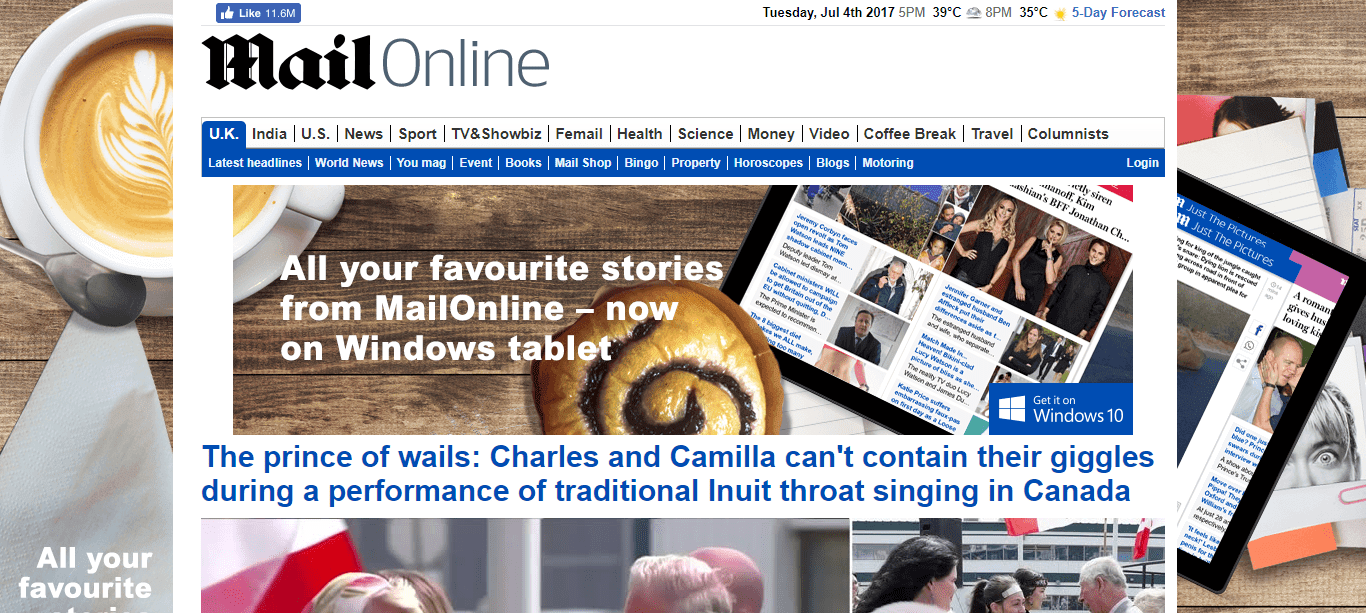 Unlike other publishers on this list, it's also laid back about promoting paid subscriptions.
The homepage promotes Daily Mail Windows app in a native skin to adblock users. Lower down the page we see coupon codes for affiliate deals from brand advertisers like Thomson, Argos, John Lewis, and more, unaffected from adblock.
To the non-blocking visitors, the homepage appears with a leaderboard above-the-fold, peppered occasionally with sticky vertical skyscrapers. Headerbid Expert found two bidders in bidding on that inventory, i.e., Criteo and Index Exchange, with DFP.
9. BBC Online: The Responsible Adult
The aforementioned eMarketer report ranks BBC on number 11th among twenty UK websites with highest revenue losses to adblock. Despite that, the news publisher implements neither ad walls nor metered paywalls.
BBC.com follows IAB's LEAN standards to the letter and gives precedence to UX. To non-blocking visitors, BBC displays only text ads, native content recommendations (by Outbrain), and unobtrusively placed 250×300 units filled by Google Display Network: All constrained with quick time-outs. Headerbid Expert detected no bidders.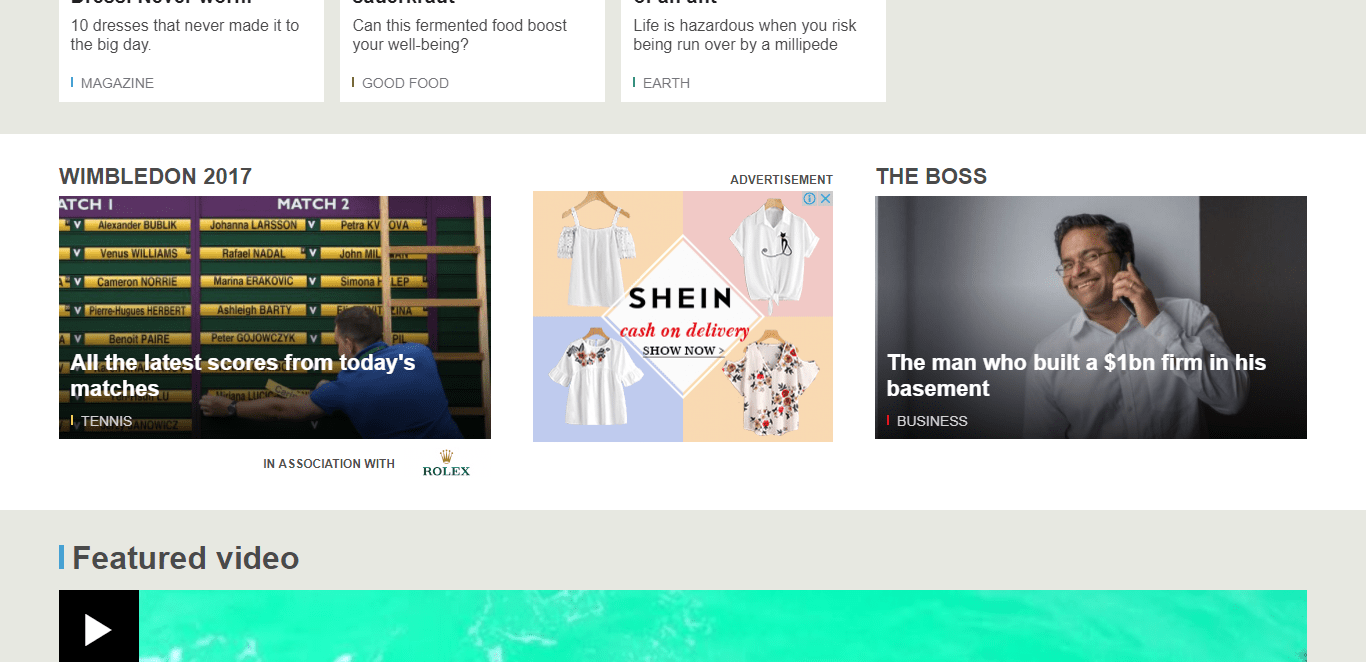 They also accept content sponsorships from brand advertisers like Rolex, which is the only bit that remains visible to Adblock users. It doesn't come across as profitable, but BBC's ad layout sets a good standard for ad-lite experiences.
8. Wall Street Journal: Carrot-and-Stick
Dow Jones' WSJ recently pulled back print distribution across Europe, citing poor subscription rates. Digitally, the publisher is leaving no stone unturned to drive paid subscriptions forward.
There is no ad wall. The publisher uses a metered paywall—visitors are required to sign up for a free account and pay for a subscription once the free access time is up to access content.
WSJ is also one of the few publishers I've known that are promoting direct advertising with advertisements of their own. Here's a banner ad from WSJ, using brand-safety to entice advertisers, pulled from Adage.com.
7. HuffPost: No Fuss
With a cool new design, the recently rebranded Huffington Post doesn't look too concerned about adblock, judging by the website.
There is no ad wall, just a colorful, dismissable popup asking users to whitelist which appears only on content pages.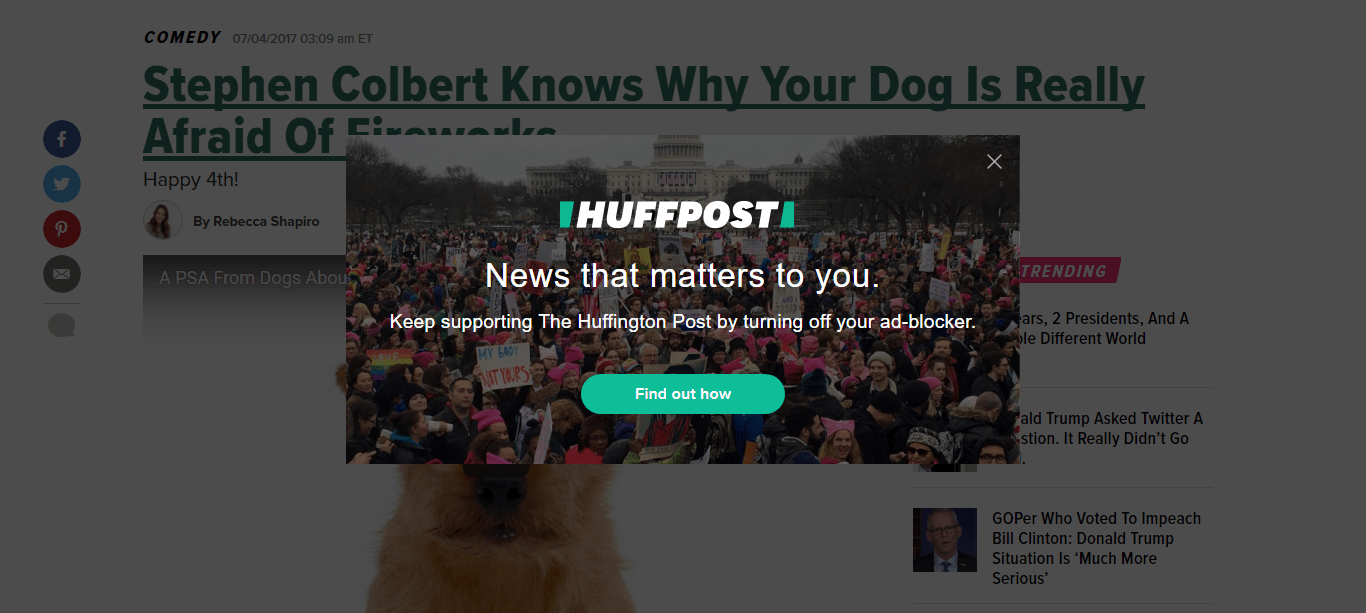 To non-blocking visitors, HuffPost has a different layout for different national editions. US visitors, for instance, get nice, viewable leaderboards placed just barely above-the-fold. Everyone gets 300×250 and/or vertical banners placed in the sidebar.
Huff Post also does content recommendations through Taboola and ZergNet, and occasionally runs CPC campaigns. Headerbid Expert found Cox in the publisher's header bidding container.
6. Time.com: More the Merrier
Time.com adblock message is a master class in guilt-trips.
There is no ad wall, but a little banner script lets you click and see what Time.com would look like without ads: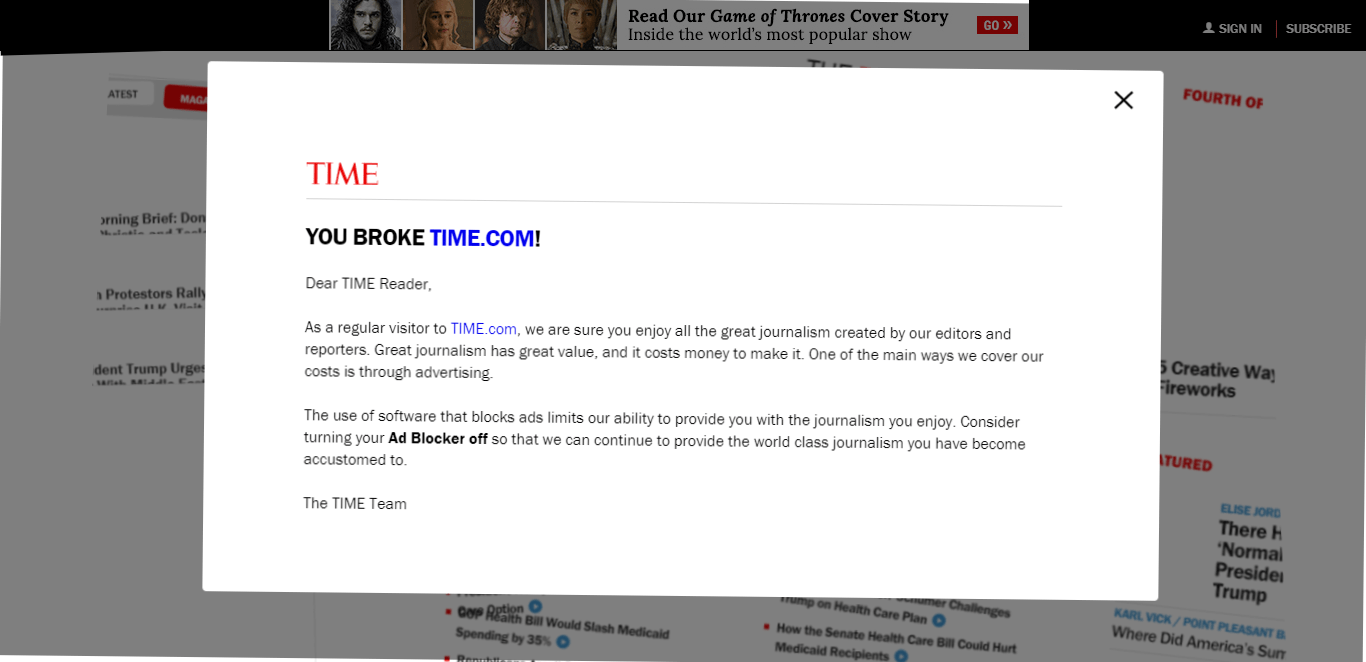 It's also not so vigorous as some of the other publishers in promoting paid subscriptions.
Time.com has leaderboards, vertical skyscrapers, and auto-refreshing rectangle banners, making it one of the more ad heavy layouts out there. There are also content recommendations from Outbrain, Ideal Media, and dianomi. Headerbid Expert found as many as six bidders, Amazon, AudienceS, Cox, Criteo, Index, and Sonobi bidding on this extensive inventory, highest of all publishers on this list.
5. Telegraph: The Multi-Tasker
The Telegraph recently overtook The Guardian in both offline and online readership. Still, the publisher loses up to $2 million annually to adblock, according to eMarketer.
The publisher is also taking balanced steps to revive its digital revenue streams across the board, with added touch of class. There's the familiar ad wall with its message: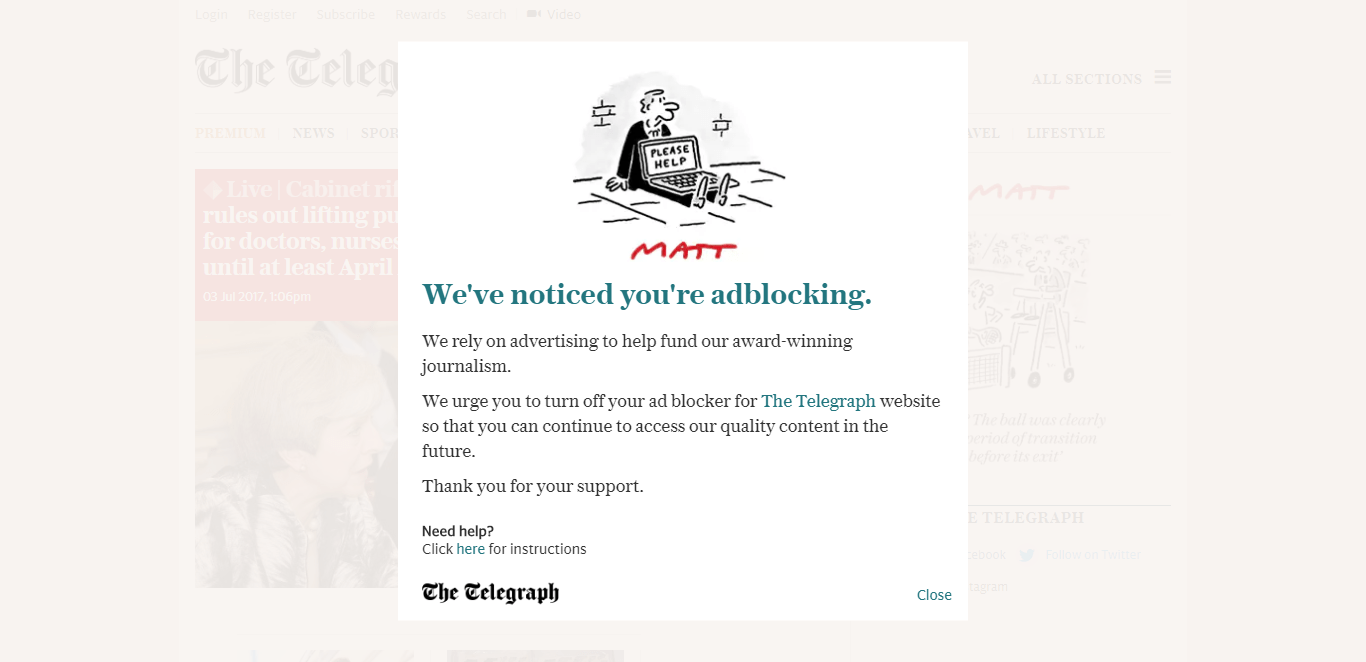 Telegraph's inventory contains leaderboards, auto-refreshing 250×300 banners, and vertical skyscrapers. Headerbid Expert found AOL, AppNexus, Criteo, and Index Exchange, along with DFP bidding on their inventory.
The publisher promotes sponsored content differently, choosing a simple MediaVoice plugin over the more popular content recommendation engines.
Telegraph implements a metered paywall only on content marked as 'premium', limiting access to one article per week for non-paying registered users only.
As I said: Well balanced on all fronts.
4. The Guardian: For the Sake of Journalism
Another branded news publisher estimated to lose up to $2 million annually to adblock, The Guardian repeatedly makes waves in tech circles for daring moves: From revealing pieces on ad tech supply chain inefficiency to declaring independence from 'duopoly' altogether. In terms of digital revenue, the publisher is playing it smart, carefully balancing advertising with driving subscriptions.
The Guardian never put an ad wall or paywall on content, relying on its quality content to sway adblocking visitors. The publisher now reminds all visitors (regardless of adblock) of this fact and asks for support in a dismissable bar on the homepage. The message is repeated on content pages.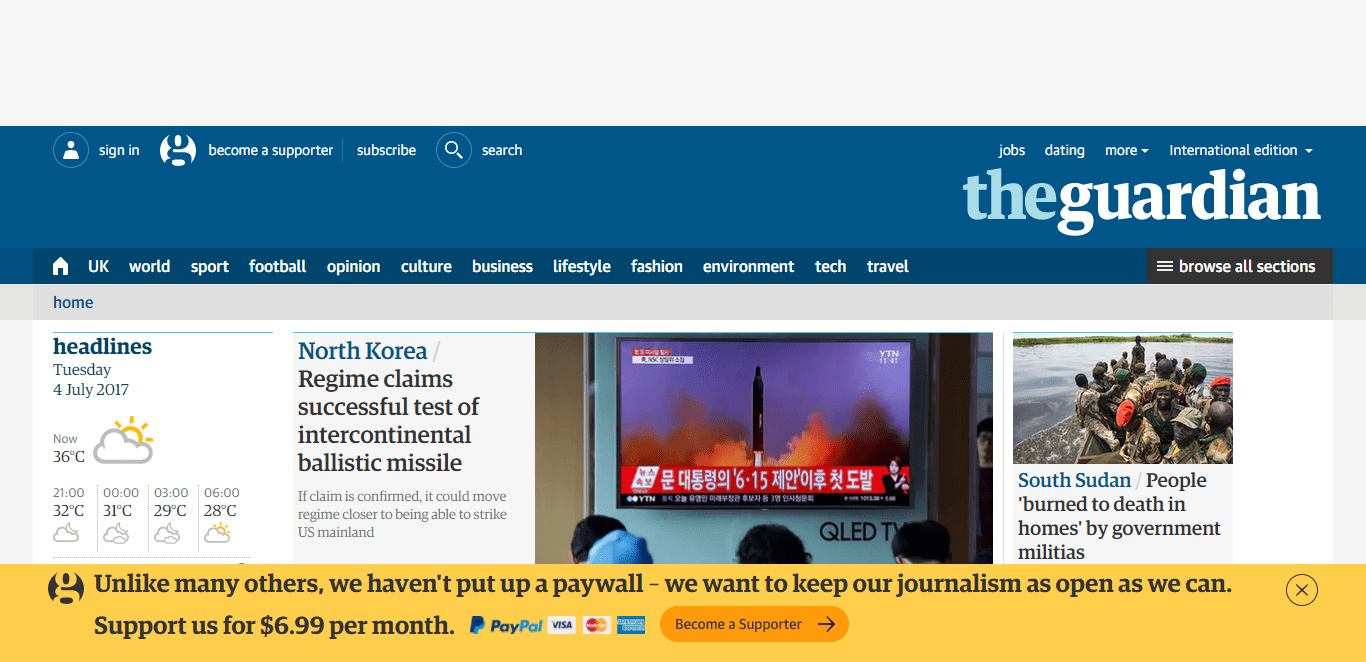 The publisher also created separate tiers of paid subscription (Patron, Partner, and Supporter), adding value to each with exclusive discounts on live event tickets, journalism masterclasses, office and printing press tours, ad-free mobile app experience and much more.
To non-blocking visitors, The Guardian puts up an ATF leaderboard and 250×300 banners here and there. At the bottom of the page is a Guardian Labs widget loaded with paid content (sponsored by one advertiser at a time). Headerbid Expert found Sonobi, with DFP bidding on inventory.
The Guardian is not shying away from Programmatic either, signing up as a brand-safe programmatic seller on DGN's TrustX platform.
3. Business Insider: Smart Choices
Among the first publishers to stand against fraud, implement ads.txt, and join TrustX brand-safe programmatic platform, Business Insider knows what it's doing when it comes to driving digital advertising revenue.
This is the BI adblock wall, Google Chrome's adblock funding choice (offers visitors options of whitelisting or buying site access pass for $1, with slightly less ads).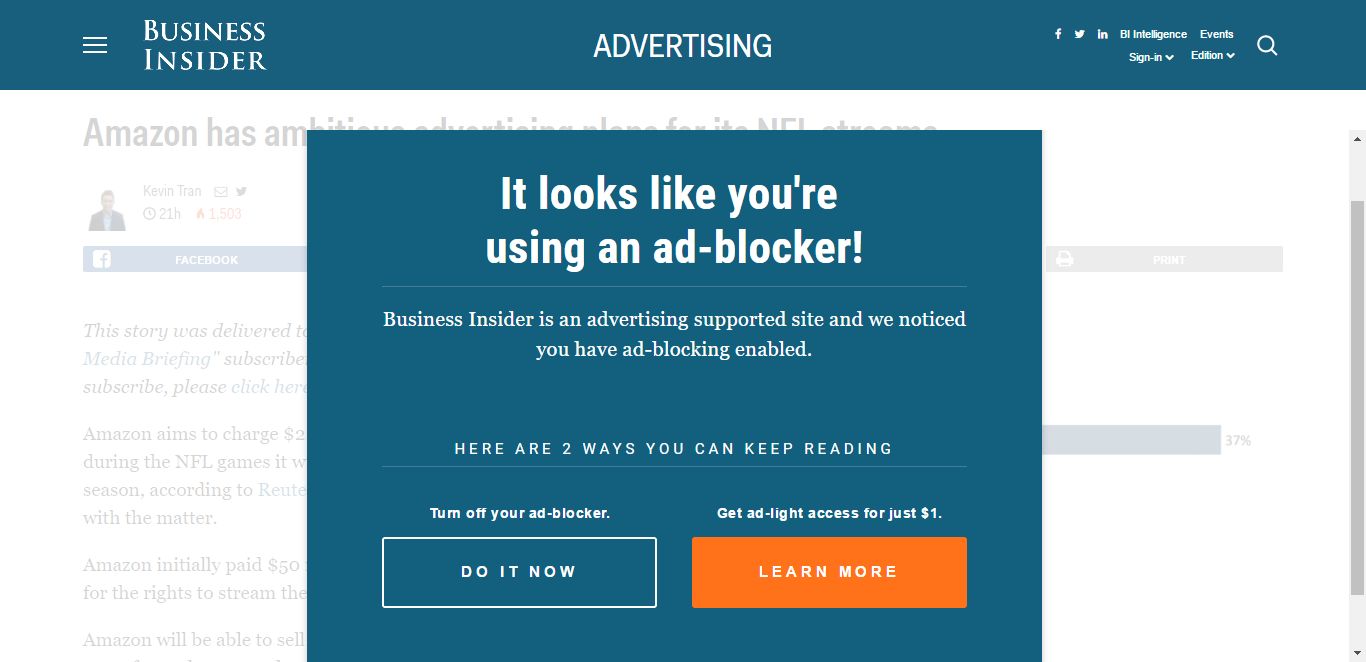 Non-blocking visitors see a leaderboard, sidebar 300×250 ads, content recommendations by Taboola, financial content recommendations by dianomi, and promos for premium BI intelligence reports—right on the front page. Headerbid Expert found AppNexus, Cox, Index Exchange, and Rubicon, along with DFP, bidding for this inventory.
BI's methods make the best of what's available and furthers its reputation as a trustworthy media seller.
2. NYT: The One True 'Premium' Publisher
New York Times is among the rare news publishers who are actually turning up a profit from digital subscriptions. NYT's efforts to drive digital subscriptions ended up saving the publisher, as evident from the glowing earnings report released a few weeks ago.
So no, you won't see an ad wall anywhere on nytimes.com. You will see messages promoting NYT subscription in your national currency instead.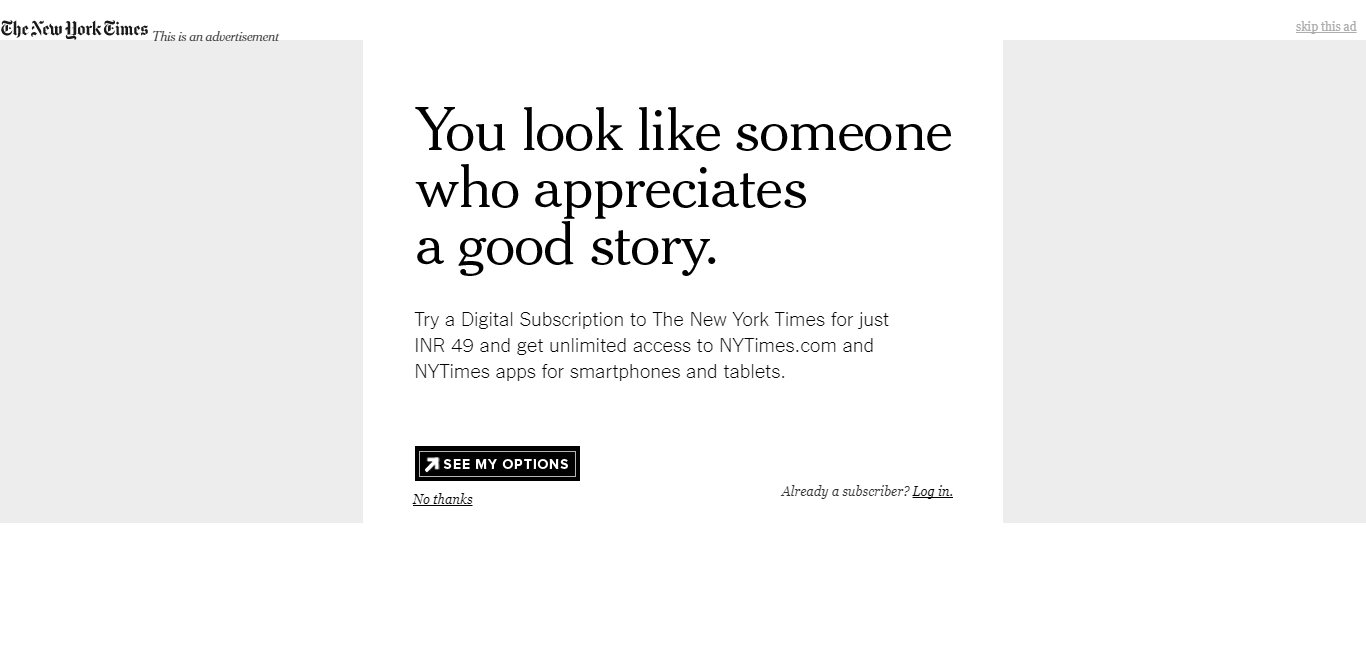 Then there is the metered paywall which gives you access to 10 free articles a month unless you buy one of the subscription plans.
Without adblock, the NYT does show ads, so it's not like the publisher is completely setting advertising revenue aside for the time being.
Non-blocking visitors see no ads on the homepage. Content pages have leaderboards above-the-fold, midway through the content, and below it, along with 250×300 banners in the sidebar, more often than not filled with direct-sold ads. Headerbid Expert found Amazon and Index Exchange, along with DFP bidding on this inventory.
As part of Time Inc., NYT is also a programmatic seller on TrustX.
1. Washington Post: The Innovator
Washington Post has its ad tech game on point. This is a publisher who often puts its resources into creating, perfecting, and sometimes selling its own remarkable advertising tech rather than relying on vendors for the heavy-lifting.
Like other news publishers on the list, Washington Post has no ad wall on the homepage. That shows up on content pages instead.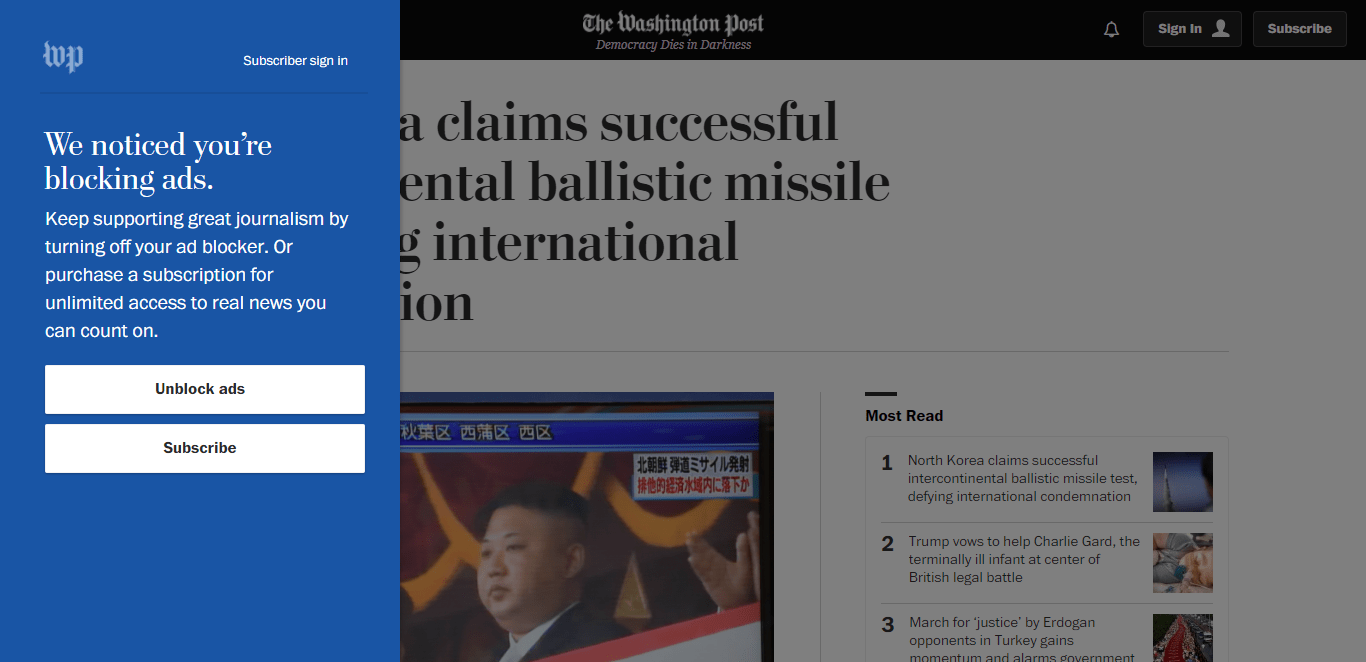 The publisher has two separate widgets for sponsored content: direct sold by WP BrandStudio, programmatic via Outbrain.
Non-blocking and whitelisting visitors will see ads on content pages: A leaderboard and couple of sticky vertical banners in the sidebar. Headerbid Expert found six bidders including AOL, Amazon, Criteo, Index, and OpenX, along with DFP bidding on this inventory.
The Washington Post is also a prominent name on TrustX brand-safe programmatic seller list.
---